>
>
>
Small Freeze Dryer with 70kg Capacity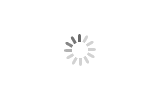 Small Freeze Dryer with 70kg Capacity
Brand :XINYANG
Product origin :CHINA
Delivery time :Within 3 Months
Supply capacity :100 Sets
Small Freeze Dryer LG5 with 70kg Capacity
LG series freeze drying equipment is manufactured on the basis of experience in areas such as heat transmission, vacuum, refrigeration, pressure vessel manufacturing and
automatic control, integrated international advanced technology.
According to the loading capacity of product and its applicability, it can be divided into small(including experimental), medium and large freeze drying equipment.
LG series equipment apply to process wide range of products, such as:

★Vegetable: edible mushroom, diced garlic, chives, onion, green beans, pea, diced cucumber, sweet corn, diced carrot, spinach, asparagus, edible wild herbs, etc.
★Seafood and Meat: conpoy, shrimp meat, fish fillets, beef, pork, chicken, mutton cut and slice, etc.
★Flavored Products: garlic powder, ginger powder, onion powder, tomato, pepper powder

★Instant Soluble beverage: coffee, tea, soup, soymilk, milk, etc.
★Fresh Traditional Chinese Medicines: ginseng, pilose antler, chines wolfberry, etc.
Parameters of LG series freeze drying equipment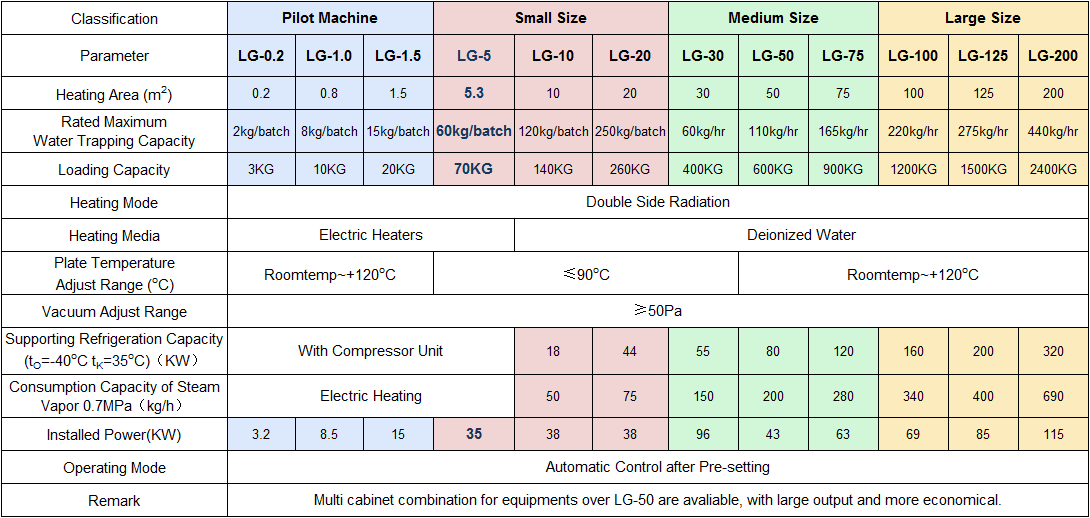 Drying chamber is a horizontal tank that is made of austenitic stainless steel.

There is a sight glass on the door, and heating plates locate in front of cold trap inside of chamber, the material of heating plates are aluminum with special processing treated.
High technical design and built to keep about 100% heat focus on the product during drying.
Xinyang LG5 Specification:
Dimension(L*W*H):
3500x2300x2300mm
Dimension of heating plates
300*330*8mm
Heating plate area
5.3m2
Free distance between heating plates
82mm
Quantity of heating plates
8pcs
Heating type
Double-sided radiation
Heating medium, max. temperature
130C
Dimension of trays
300*330*35mm
Quantity of trays
14
Nominal H2O sublimation capacity
10kg/h
Rated maximum water trapping capacity
70kg/batch
Consumption capacity of steam vapor 0.7MPa(kg/h)
No need steam & hot water
Nominal working pressure
20~133Pa
Time for pumping down
12min
Refrigeration capacity needed (-35℃evaporating)
10kw
Install power
35kw
Voltage:
380~460v
Cross weight
3Ton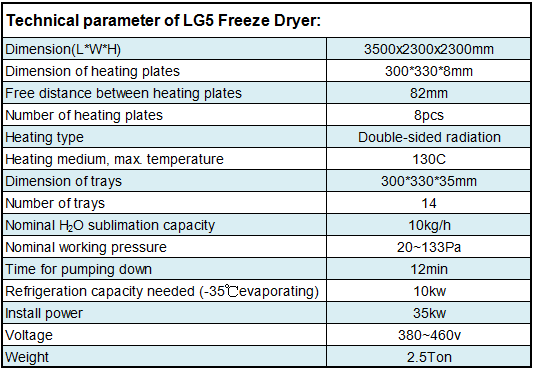 Packaging and Delivery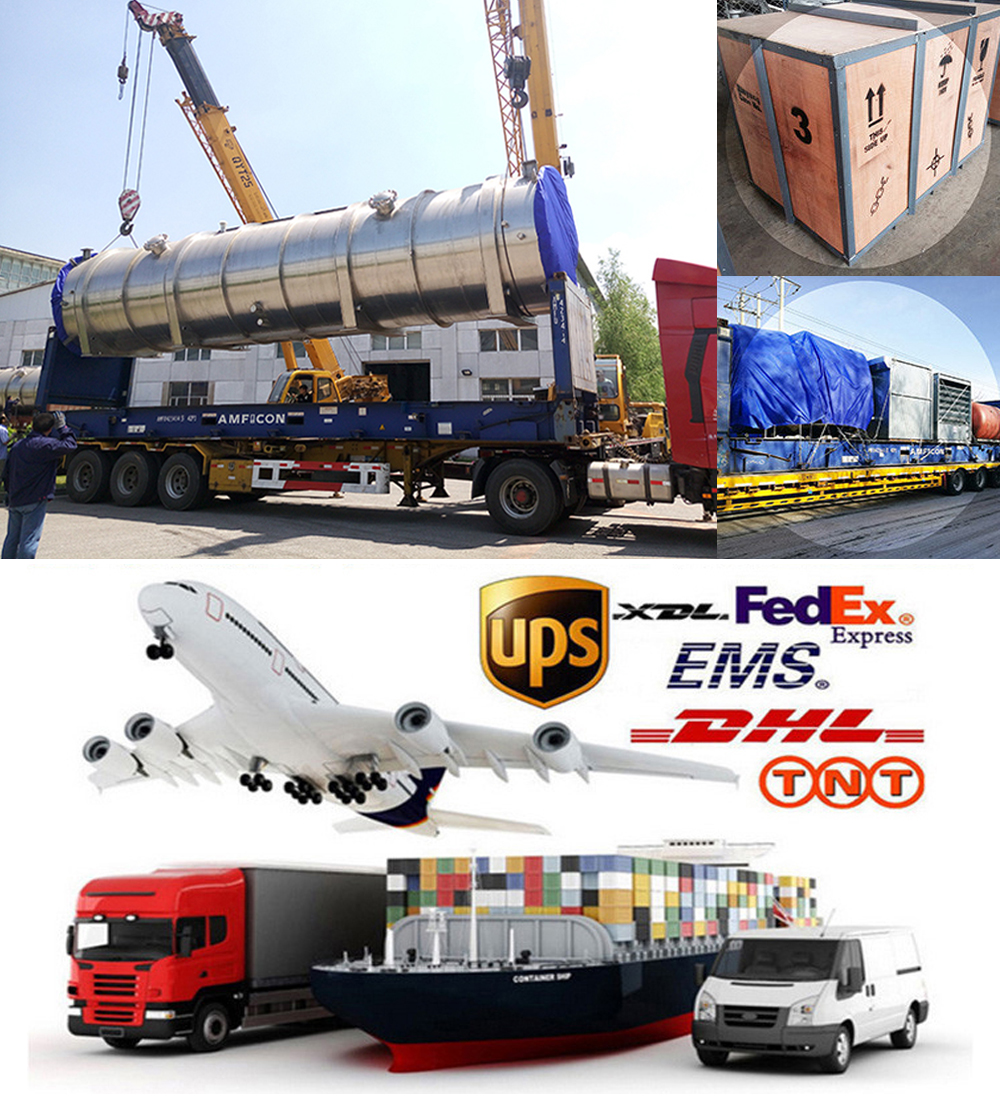 Company Profile
Shenyang Aerospace Xinyang Quick freezing Equip. Manuf. Co., Ltd. was founded in 1985, a leading enterprise incorporating the research, manufacturing, sales and services of food processing equipment and freezing technology. Freeze drying equipment and IQF freezing equipment are widely used around the world.
Our team have supported over 1,500 food engineering projects both domestically and abroad, our products have been exported to USA, Canada, Germany, Netherland, Singapore, Thailand, Malaysia, Indonesia, Korea, Myanmar, Chile, Nigeria etc.
Over 30 years' experience make us expertise in the food processing equipment manufacture, and we're confidence to provide you with high quality products and also good serve.

Shenyang Aero Space Xinyang Quick Freezing Equip. Manuf. Co., Ltd.
Address: No.18-5, Yaoyang Road, Huishan Economic Development Zone, Shenyang, China.
Tel: +86-24-86525079 Fax: +86-24-86520145 www.xysudong.com
1. Freeze-dried products retain their natural taste, aroma and colour without losing their nutritional value; 2. Freeze dried products do not contain any preservatives; 3. The elimination of water from the primary product significantly reduces the growth of microorganisms and bacteria; 4. Freeze-dried products are light, easy to transport and have a long shelf life.
...more
Get the latest price? We'll respond as soon as possible(within 12 hours)