>
>
>
Pet food vacuum freeze dryer of lyophilizer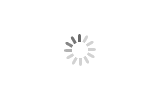 Pet food vacuum freeze dryer of lyophilizer
Brand :XINYANG
Product origin :CHINA
Delivery time :Within 3 Months
Supply capacity :100 Sets
Raw food and freeze dried pet food are almost the same. If you want to give your pets the same nutrients as raw food, freeze drying might be the best choice for you.
As the first choice for pet food processing, Xinyang freeze-drying equipment is popular among pet food manufacturers. More and more customers become Xinyang's partners.
Xinyang freeze-drying machine has a large feed volume in a single batch, and the freeze-drying time is short. The cold trap will automatically defrost during the freeze-drying process, which can be continuously produced, which greatly reduces the processing cost of the product.
What is Freeze Drying processing?

Freeze drying is the process of removing liquid from an item, such as food, pet food, chemcial products and so on, to help shelf life, reduce weight, and preserve quality. Due to the expense of freeze drying, it's the best used for premium products of premium quality.
Freeze drying begins with freezing the product in short time and subjecting it to vacuum pressure to remove the solvent content (usually water) from the product. The product is then heated, which allows the solvent to evaporate through a process known as sublimation processing.
For example, in the case of freeze dried food, a food item's texture, flavor, and nutritional content remain intact. Freeze-drying also greatly reduces the weight of the food, making it easier to transport and store.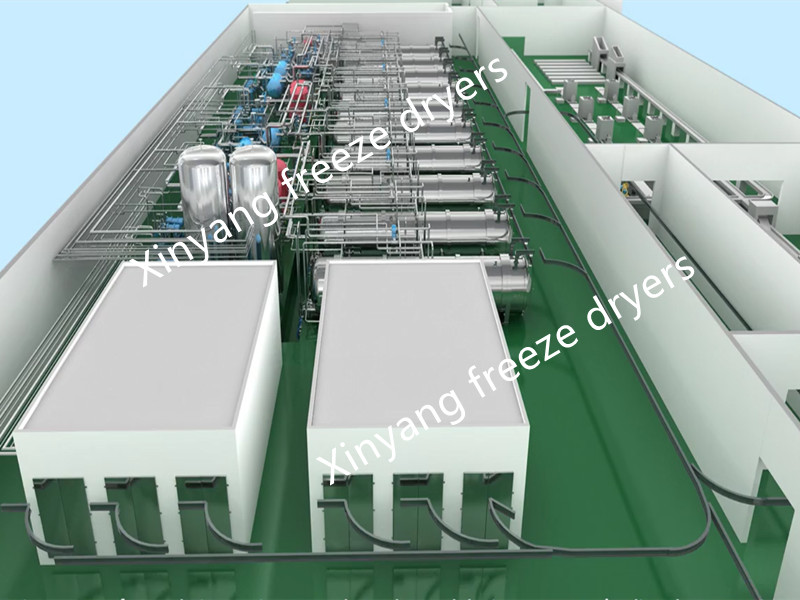 What is triple point?
In physics and chemistry, the triple point of a substance is the temperature and pressure at which three phases (gas, liquid, and solid) of that substance may coexist in thermodynamic equilibrium.
The advantage of Xinyang freeze dryers

1. Xinyang freeze-drying machine has a large feed volume in a single batch, and the freeze-drying time is short. The cold trap will automatically defrost during the freeze-drying process, which can be continuously produced, which greatly reduces the processing cost of the product.
2. Xinyang freeze dryer adopts the international advanced design concept and integrates the technology of vacuum heating, refrigeration and melting. The radiation heating method greatly improves the heating uniformity of the product. The freeze-dried product after rehydration is almost the same as the fresh product. quality.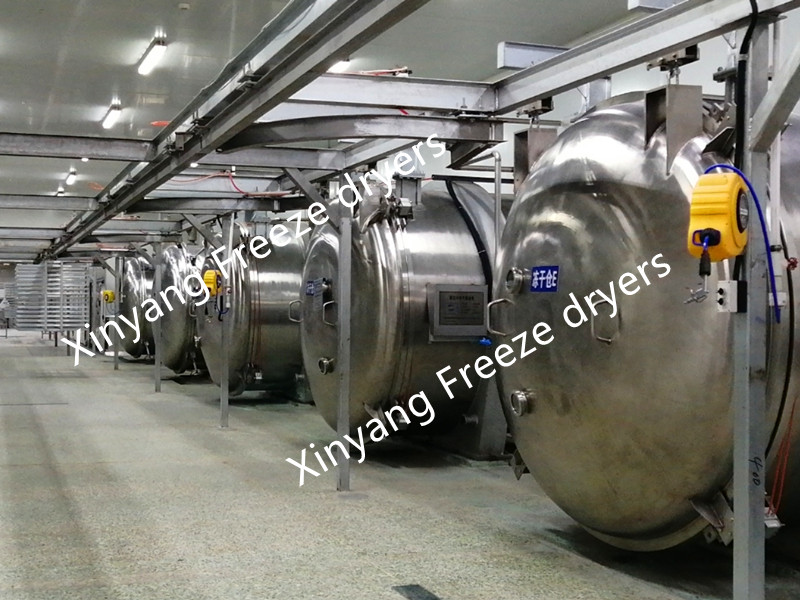 Technical specification of large freeze dryers
Paramters

LG125
2xLG125
4xLG125
LG200
2xLG200
4xLG200
Heating area (m2)
125

250
500
200
400
800
Loading capacity (Kg/batch)
1500
3000
6000
2500
5000
10000

Water condensation

capacity (Kg/h)

275
550
1100
440
880
1760

Refrigeration capacity (Kw)

needed (T0=-40℃, Tk=+35℃)

200
320
640
320
560
1100
Steam consumption (Kg/h)
400
680
1200
690
1300
2580
Rated power supply (Kw)
56




85




Heating media
Deionized water

Heating mode
Double side radiation
Heating plates temperature Range (℃)
Ambient temperature ~+120℃

Why to choose freeze drying processing for pet foods of lyophilization?

Unlike the dehydration process, freeze drying is much better because it keeps the food in its original condition. It doesn't change the food's cellular make-up, which happens in the dehydration process since low heat is used. So yes, freeze-dried pet food is good for your pets because it keeps the original nutrients of the food.
One of the most important factors to consider when producing or buying pet food is the ingredients. Most freeze dried pets foods contain raw food without any preservatives to retain nutrients and vitamins.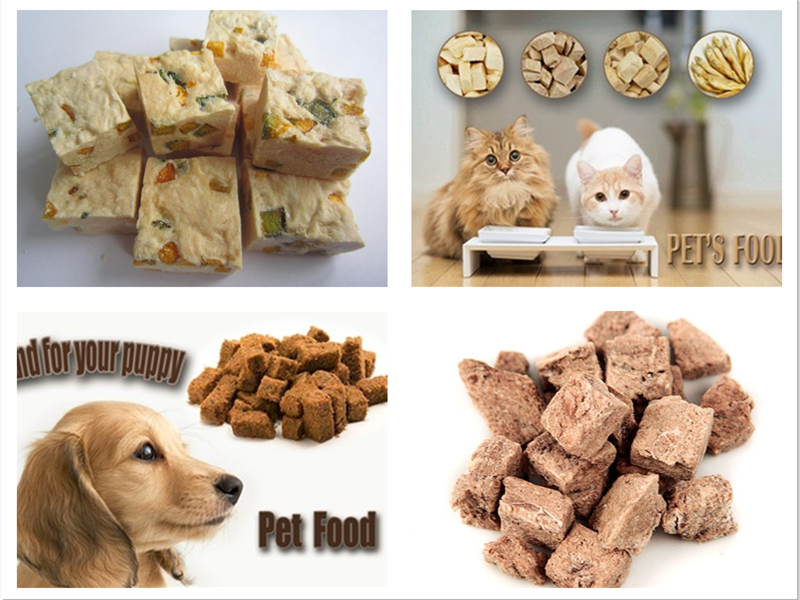 The difference among freeze dried products and hot air drying & mixed products


Ingrendient

Freeze dried

products

Air dried

products

Mixed

products

Nutritional

indicationrs

Crude protein
80%
56%
26%
Crude fat
7.5%
2.5%
2.5%
Crude fiber
0.1%
0.5%
1%
Crude Ash
5%
7%
3.5%
Moisture
4.9%
18%
35%
Others
2.5%
16%
32%

Physical

Indicators

Vitamin
75% retained
10% retained
35% retained
Shape
Original shape
Shrinkage
Changed 90%
Color
Original color
Darker color
Colorant
Taste

Crispy

authentic flavor

Hard
Moderate
Preservatives
None
Antioxidants

Preservatives

added

Shelf life
> 36 months
18 months
18 months
3D View of freeze drying machine
This is a partial display of the three-dimensional space of the freeze-drying equipment, mainly to show the composition of the workshop where the freeze-drying equipment is located.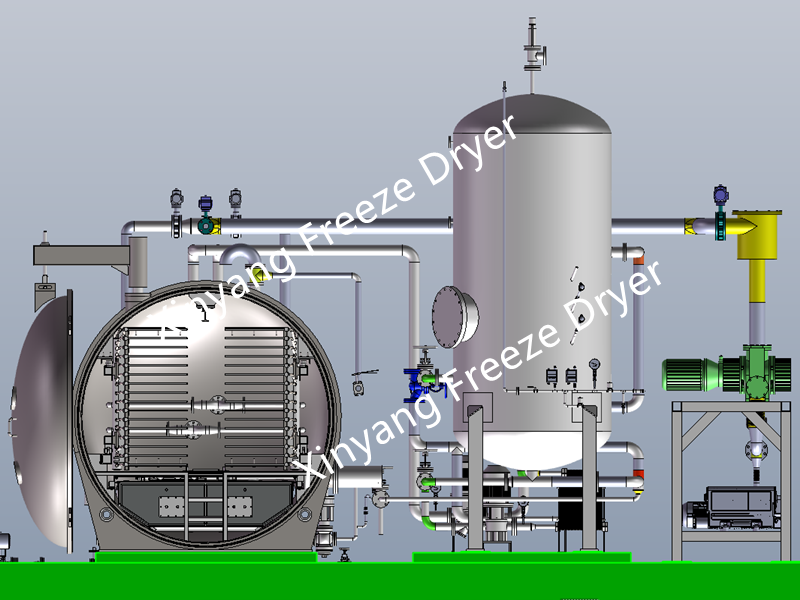 Which parts do Xinyang freeze-drying equipments include?

Xinyang company can design and build Turn-key project of freeze drying plant for the end users;
In general, Freeze drying machine shall include vacuum drying chamber, hot water system, vacuum system, de-icing system, monorail system, blast freezer, refrigeration system, control system with trolleys and trays, etc.
The customer can choose the main parts of lyophiliation machine according to real requirement, Xinyang will redesign based on the clients customized requirement.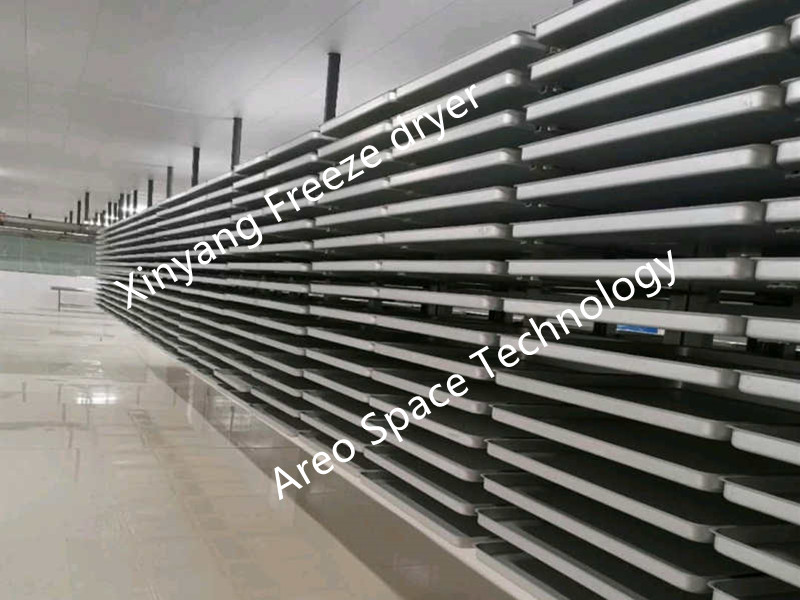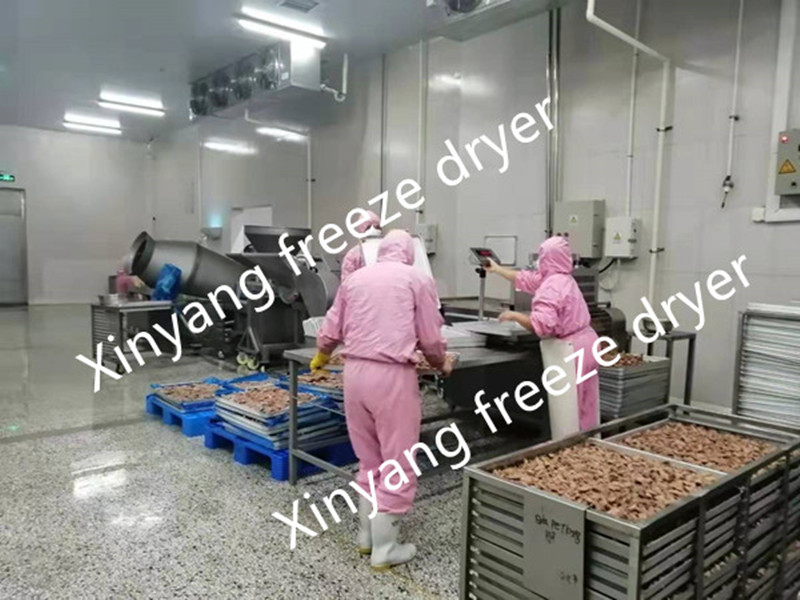 Why is Xinyang's freeze-drying equipment trustworthy?
In the process of designing, manufacturing, and installing freeze-drying equipment, we will not miss any tiny details, and consider as much as possible for users to achieve perfection, whether the equipment's after-sales service can be guaranteed in time, and demonstrate the responsibility of a responsible supplier. It is also the successful summary of Xinyang's many years of export experience.
As a manufacturer of freeze-drying equipment for more than 30 years, Xinyang always puts the interests of customers in the first place. The parts of freeze-drying equipment are selected from international or domestic well-known brands, while providing sufficient spare parts. Customer needs are our task. Xinyang The company always maintains technical support and service for customers.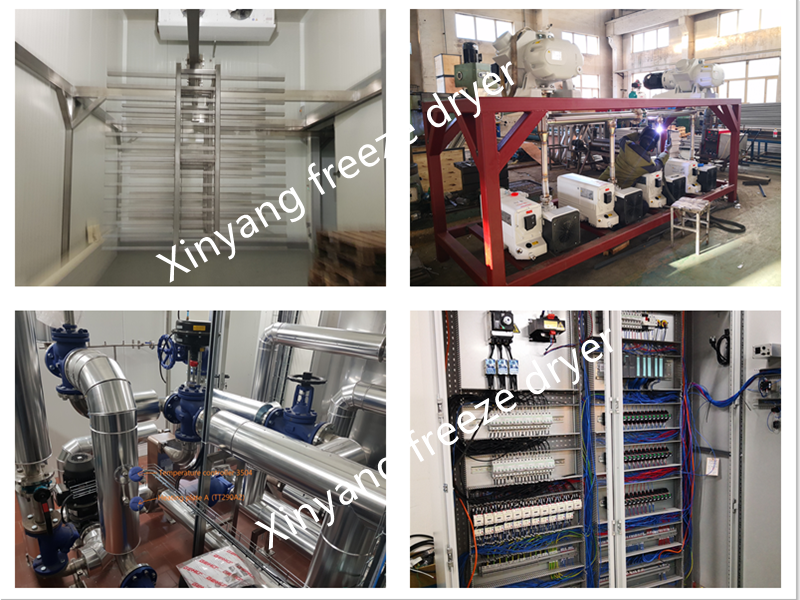 1. Freeze-dried products retain their natural taste, aroma and colour without losing their nutritional value; 2. Freeze dried products do not contain any preservatives; 3. The elimination of water from the primary product significantly reduces the growth of microorganisms and bacteria; 4. Freeze-dried products are light, easy to transport and have a long shelf life.
...more
Get the latest price? We'll respond as soon as possible(within 12 hours)