>
>
>
Pilot Freeze Dryer with 20kg Capacity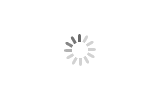 Pilot Freeze Dryer with 20kg Capacity
Brand :XINYANG
Product origin :CHINA
Delivery time :Within 3 Months
Supply capacity :100 Sets
Lab scale freeze dryer or Pilot freeze dryer is used for sample test and freeze drying processing research, it can be use all kinds of field, incldue food, meat, vegetables, fruit, pet food, herbs, sea food, etc. of course, it can be used for chemical field, too. Such as aerogel, Insulation brick, firebrick, battery and so on.
Our lab scale freeze dryers have been exported to more than 20 countries, they are popular to all customers, some lyophilizer are used for processing research in university, institute department.
Pilot Freeze Dryer LG1.5 with 20kg Capacity
LG series freeze drying equipment is manufactured on the basis of experience in areas such as heat transmission, vacuum, refrigeration, pressure vessel manufacturing and

automatic control, integrated international advanced technology.According to the loading capacity of product and its applicability, it can be divided into small(including experimental), medium and large freeze drying equipment.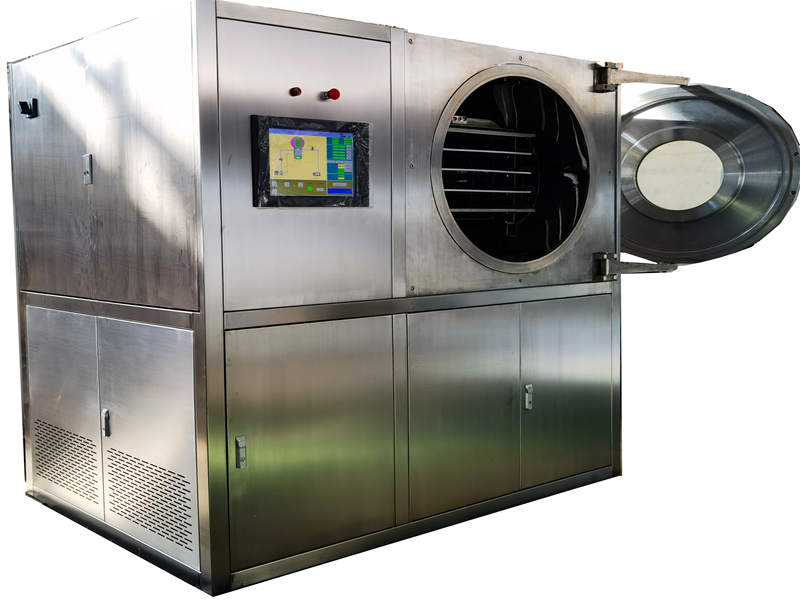 Small Size Pilot Freeze Dryer
Built-in cold trap with Freon. It's suitable for large and medium institutions, research institutes and other organizations for samples and crafts research, especially suitable for small production with high value-added.
LG1.5 Features
1. Much lower frying temperatures (approx. 90 to 120℃ in practical operation, depending on the product) to maintain flavours and colors.
2. Processing products with higher reducing sugar levels in comparison with normal atmospheric conditions.
3. Minimizing of health harmful thermal reaction products, such as acrylamide.
4. Texture can truly be influenced.
5. Evaporation rate will be faster.
6. Pressure as a new parameter of control next to retention time and temperature.
7. More gentle oil handling.
8. Lower steam pressure for frying oil heating systems required than in atmospheric fryers (approx. 8 bar).
9. No frying vapor emission.
10.Devided design with freezing room and drying chamber
Detail Images


Weighing device built in the drying chamber High precision temperature sensor LCD display
Parameters of LG-1.5
Parameters

LG-0.2

LG-1.0

LG-1.5

Heating area (m2)

0.2

0.8

1.5

Loading capacity (kg/batch)

3

10

20

Rated maximum water trapping capacity (kg/batch)

2

8

15

Heating mathod

Double side radiation

Heating media

Electricaty heaters

Adjustable temperature rang of heating plate (℃)

Room temperature ~+120

Vacuum pressure of working

≥50Mpa

Supporting refrigeration capacity (to=-40℃ tk=35℃)(kw)

With compressor unit

Consumption capacity of steam vapor 0.7Mpa (kg/h)

Electrical heating

Installed power (kw)

3.2

8.5

15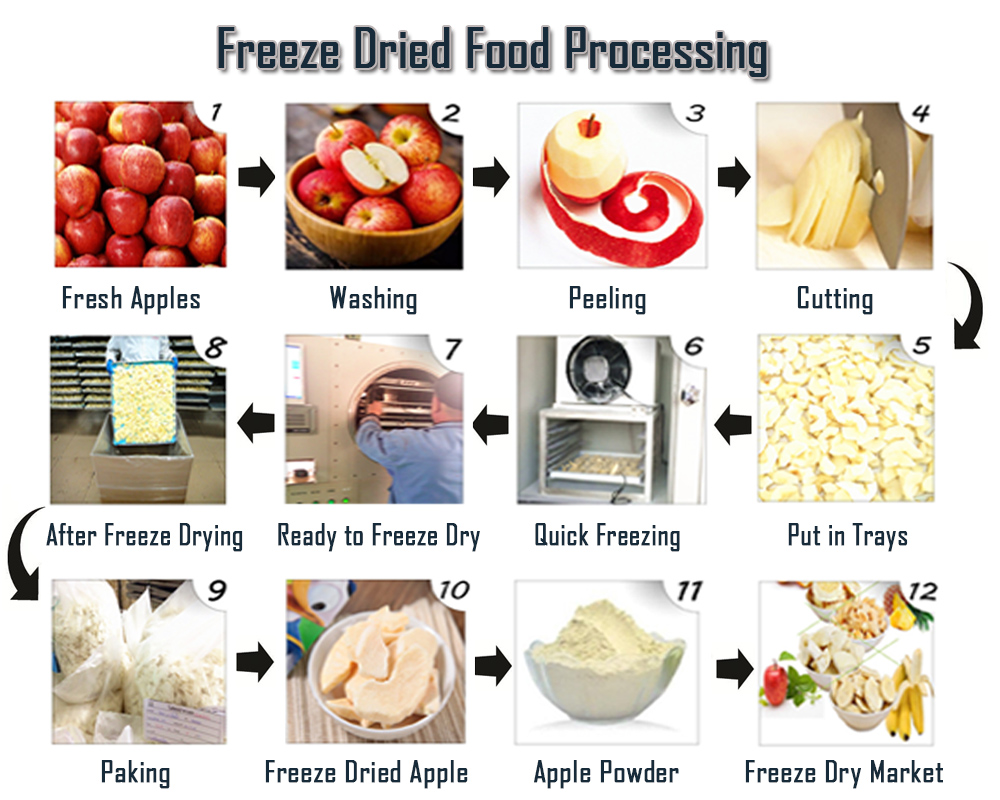 Advantages of Freeze dried products
1. Nutrition basically remains unchanged. Drying is operated in low temperature and vacuum conditions, so the nutrition is kept, particularly effective to heat sensitive materials.
2. Form basically remains unchanged. The water contained in food is drained directly from solid to gas, so the structure doesn't change, and just forms space between ice crystals. .
3. Colour basically remains unchanged. As drying is operated in low temperature and vacuum conditions, the physical and chemical properties of food changed little. There is also little possibility of oxidation and enzyme, thus easily to keep original color.
4. Fragrance basically remains unchanged. Because the fragrant components in food largely exist in amorphous concentrated section in the process of freezing, the fragrance can be kept when ice crystals are gasified.
5. The quality of solids hardly losses. Because of the low rate of sublimating water vapor, the substances are basically in quiescent state, thus the loss of solids quality can be ignored.
Parameters of LG series freeze drying equipment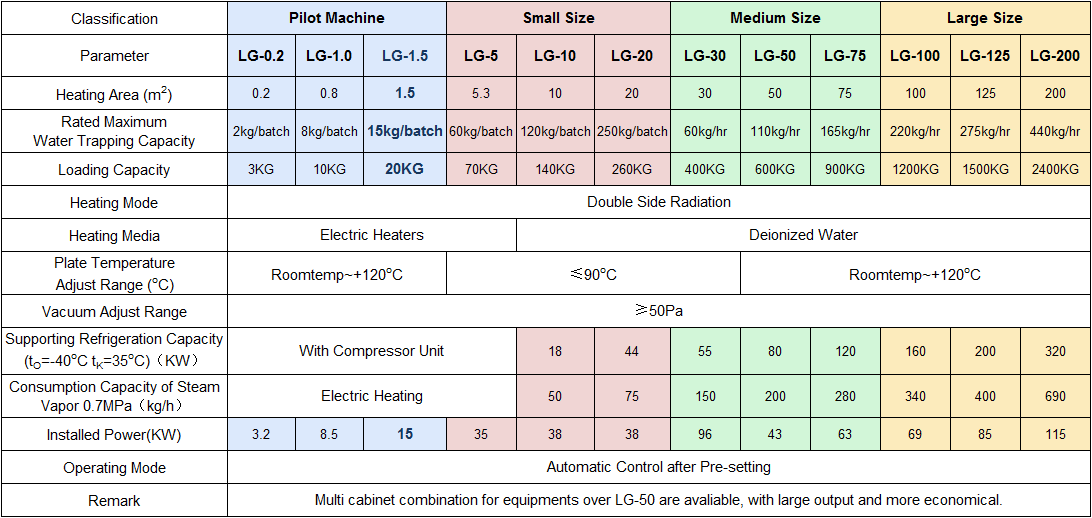 Packaging and Delivery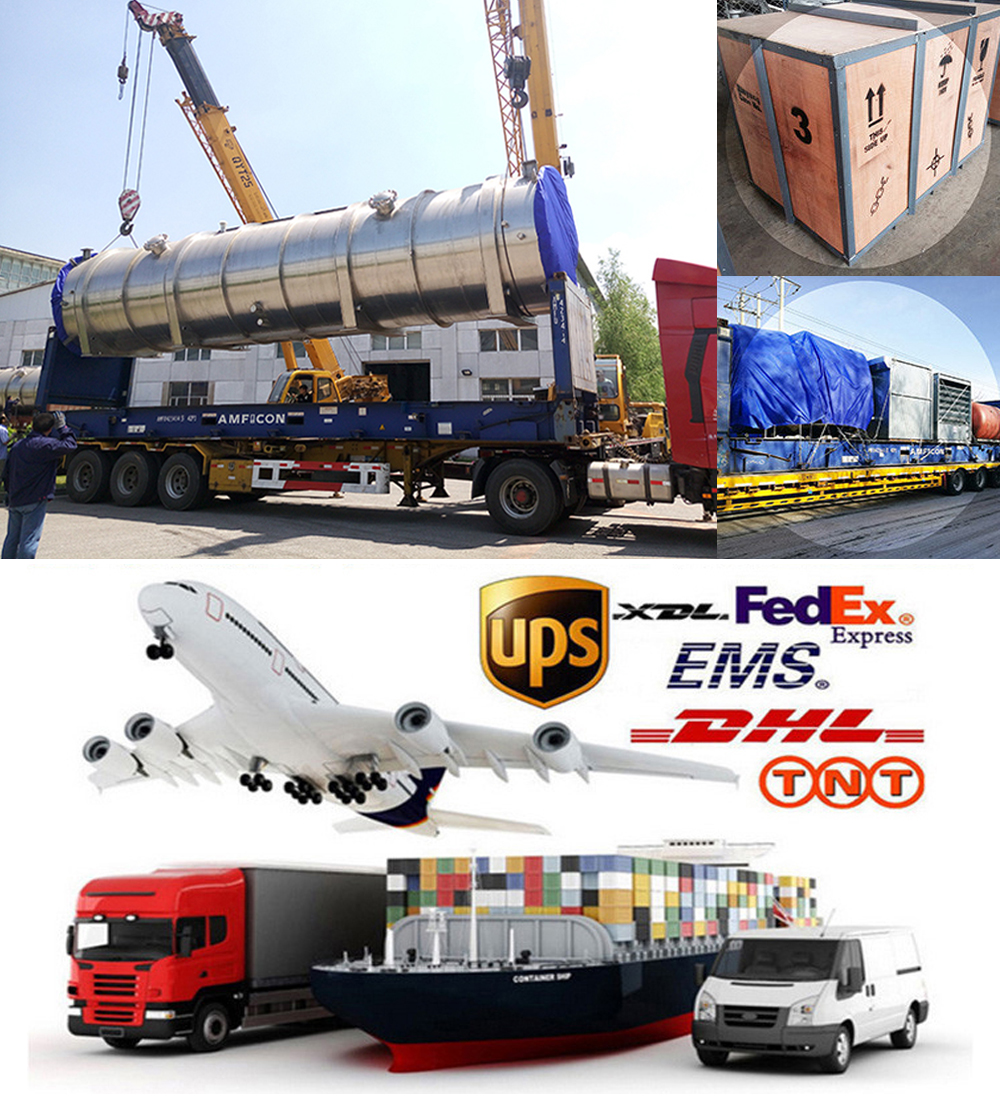 Company Profile
Shenyang Aerospace Xinyang Quick freezing Equip. Manuf. Co., Ltd. was founded in 1985, a leading enterprise incorporating the research, manufacturing, sales and services of food processing equipment and freezing technology. Freeze drying equipment and IQF freezing equipment are widely used around the world.
Our team have supported over 1,500 food engineering projects both domestically and abroad, our products have been exported to USA, Canada, Germany, Netherland, Singapore, Thailand, Malaysia, Indonesia, Korea, Myanmar, Chile, Nigeria etc.
Over 30 years' experience make us expertise in the food processing equipment manufacture, and we're confidence to provide you with high quality products and also good serve.
1. Freeze-dried products retain their natural taste, aroma and colour without losing their nutritional value; 2. Freeze dried products do not contain any preservatives; 3. The elimination of water from the primary product significantly reduces the growth of microorganisms and bacteria; 4. Freeze-dried products are light, easy to transport and have a long shelf life.
...more
Get the latest price? We'll respond as soon as possible(within 12 hours)