>
>
>
Large Freeze Dryer with 1200kg Capacity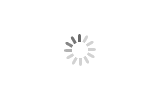 Large Freeze Dryer with 1200kg Capacity
Brand :XINYANG
Product origin :CHINA
Delivery time :Within 3 Months
Supply capacity :100 Sets
The single feeding amount of LG100 freeze-drying equipment is 1200~1500kg, and the drying time of freeze-dried products is about 8~20 hours, which is especially suitable for enterprises with a certain scale of production.
This model of freeze-drying equipment is favored by domestic and foreign customers, especially the use of two drying chambers, energy consumption can be saved by 30%, for the pre-treatment and subsequent selection of packaging personnel requirements have a good coordination.
The complete set of freeze-drying machine adopts the parts of the international famous brand, the reliable control method of automation, which ensures that the freeze-drying equipment can operate continuously 24 hours without any trouble.
Working Principle of Freeze Drying Machine

Under vacuum condition, material is freeze dried via principle of sublimation. The moisture in the pre-frozen material is directly sublimed from solid state (ice) to gaseous state (vapor), without melting. Freeze dried products are formed to be sponginess, without shrinkage and excellent in rehydration, containing little water only. The freeze dried product in sealed packaging can be stored and transported at room temperature for a long time.
Freeze Dryer can be used to process nearly all kinds of food.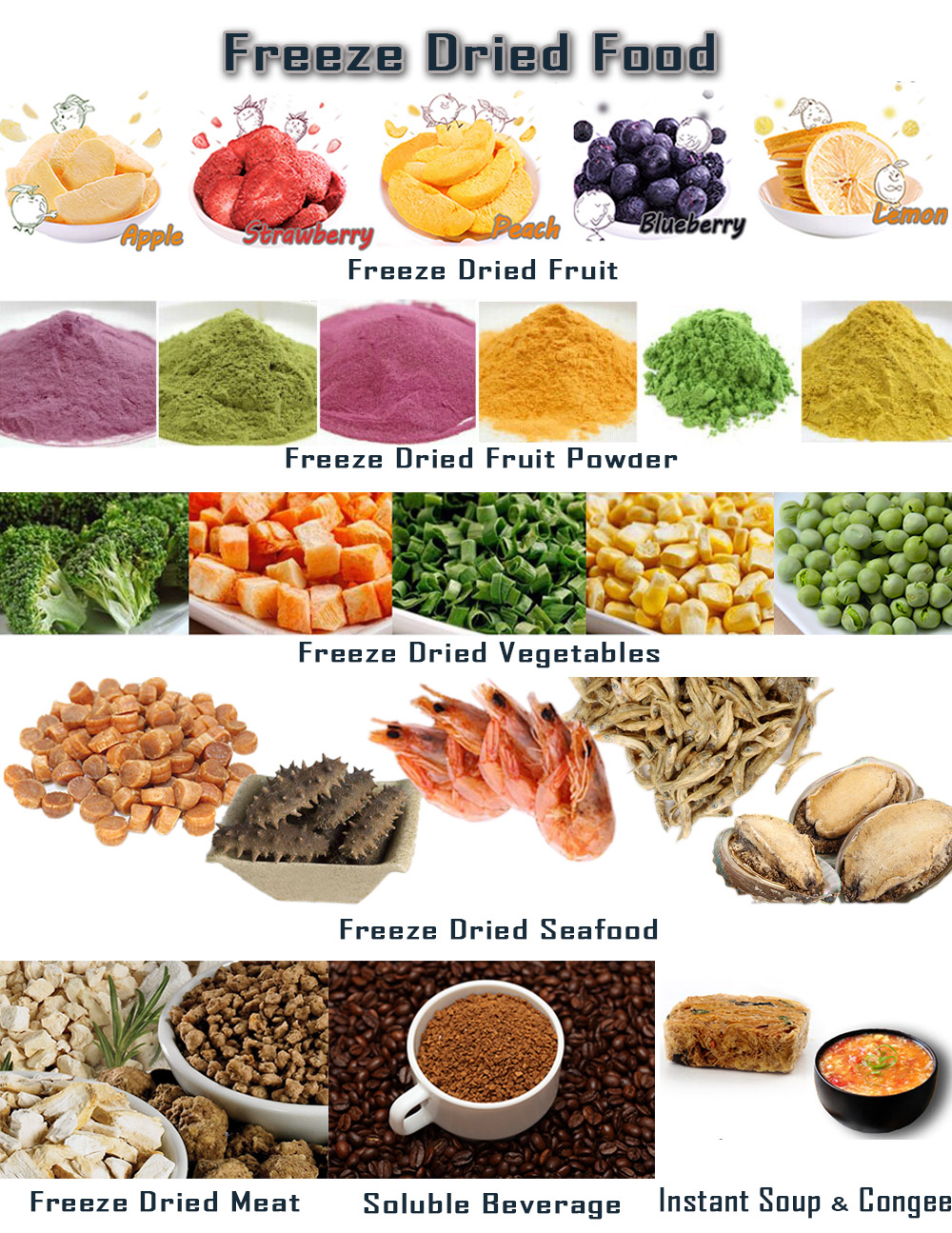 Rated Parameters of LG Freeze Drying Equipment

Parameter

LG-10

LG-20

LG-30

LG-50

LG-75

LG-100

LG-125

LG-200

Heating area (m2)

10

20

30

50

75

100

125

200

Rated maximum water trapping capacity

20kg/batch

250kg/batch

60kg/batch

110kg/hr

165kg/hr

220kg/hr

275kg/hr

440kg/hr

Loading capacity

140KG

260KG

400KG

600KG

900KG

1200KG

1500KG

2400KG

Heating mode

Double side radiation

Plate temperature adjust range (℃)

≤95 ℃

Room Temp.

~+20℃

≤100℃

Cooling water temp. +10 ℃~ +120℃

Vacuum adjust range

≥50Pa

Supporting refrigeration capacity(t。=-40℃tk=35℃)(KW)

18

44

55

80

120

160

200

320

Consumption capacity of steam vapor 0.7MPa(kg/h)

50

75

150

200

280

340

400

690

Installed power(KW)

38

38

96

43

63

69

85

115

Operation mode

Automatic control after pre-setting

Remark

Multi cabinet combination for equipments over LG-50 are avaliable, high output and more economical.
Xinyang LG100 Specification:
Steam consumption for the heating
340kg / h
Drying chamber weight
13000kg (approx.)
The dimension of drying chamber
6.8*2.5*2.5m
Vapour Condenser Capacity
220kg/h
Number of trays
240 trays
Usable Shelf Area (m2)
100 m2
Heaing plates quantity
32pcs
Shelf Dimensions
568*687*35mm
Shelf Spacing (mm)
75mm
Shelf Temperature
20 to +120℃
Condenser temperature
<- 40℃
Heating medium
Deonized water
Heating type
Double-sided radiation
Heating medium, max. temperature
130℃
Refrigerant
Ammonia (R717), Freon (R404A, R507A), CO2
Material of heating plates
Aluminum
Power Requirement
380VAC/50Hz,3phase,100KW(no including refrigerator)
Vacuum degree
30~133Pa
Material of vapor trap
Stainless steel 304/316
De-icing method
During freeze drying processing automatically
We adopt double alternate cold traps for vacuum freeze dryers, and its working principle of freeze dryer with double alternate cold traps.
Trays with product locate between heating plates, the cold trap I and cold trap II locate under the heating plates inside the drying chamber. When cold trap II is working for condensation of vapor, that comes from the product, and cold trap I is working for defrosting. Low temperature steam (15~25℃)comes from de-icing tank into cold trap I to defrost the ice on the tube, and defrost water goes back to de-icing tank and drained out. Condensation and defrost function change alternately, and controlled by PLC automatically.
So, this kind construction has limitless on product loading capacity, it has much more advantage than other kinds of freeze dryers.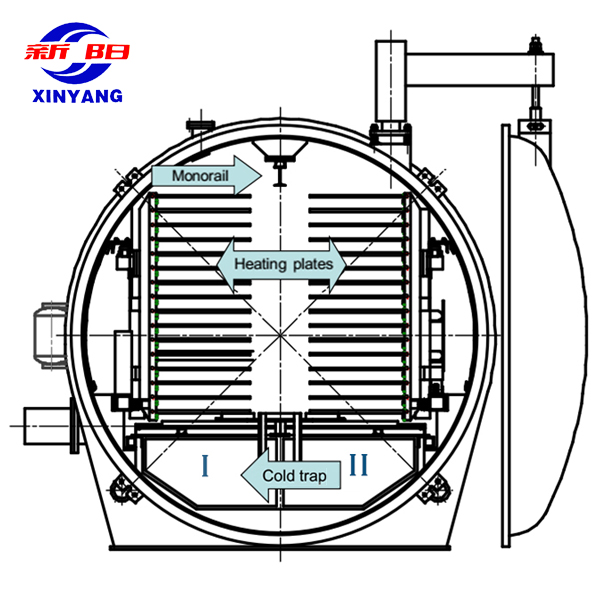 Advantages of LG series Freeze Drying Equipment
1. Efficiency of Heating Plates The material of heating plates is aviation aluminum with anodized on the surface, over 100% heat release to the product by radiation, keeping heating uniformity completely.
2. Double Side Radiation Heating Method There is a certain distance between the tray and the heating plate, avoiding the direct contact, the product is heated evenly. If the temperature of the heating plates gets higher, this heating method can protect the product from getting burnt.
3. Compact Design Double cold traps are built in the drying chamber, this leads to the compact structure, no need extra place. Compared to other suppliers, the unique design of de-icing tank requires less space, instead of a large water pool.
4. Saving Water De-icing tank under the drying chamber, which is connected to the vapor trap. The water used to melt the ice comes from the drying material. So this helps save a huge amount of water from wasting.
5. Stable Efficiency Alternate vapor trap, continuous de-icing. Double vapor trap are installed under the heating plates in drying chamber. During the drying process, the two cold traps work continuously and alternately. When Cold Trap I is condensing, Cold Trap II is de-icing at the same time, and after some time, they change to each other's state. The Cold Trap II begins to catch water vapor, the Cold Trap I begins to melt ice on the coil, after melting, the clean coil ready for another condensation cycle. There's no extra time needed for separate ice melting, and that helps to increase the output to a certain extent. Due to CDI (continuous de-icing) technology, the ice layer is usually thin for melting, the surface of the coil tube of the cold trap is always at a lower temperature, the capture efficiency remains relatively high all through the whole drying processing, which ensures high quality of products.
6. Sanitary Guarantee De-icing system works under a negative pressure condition, the vapor used for melting the ice is from the drying material, which avoid bacterial infections, and it's much more clean and sanitary.
7. Automatic Control System. Advanced intelligent control system keeps the system running stably and reliably in a long time. Furthermore, simple operation can be much easier to handle, and to save manual resource. And the we can design fully automatic display screen according to your requirements. For process different products, different control curves can be preset in advance, and the equipment will be running accurately according to the preset curve.
Freeze Dried Products Processing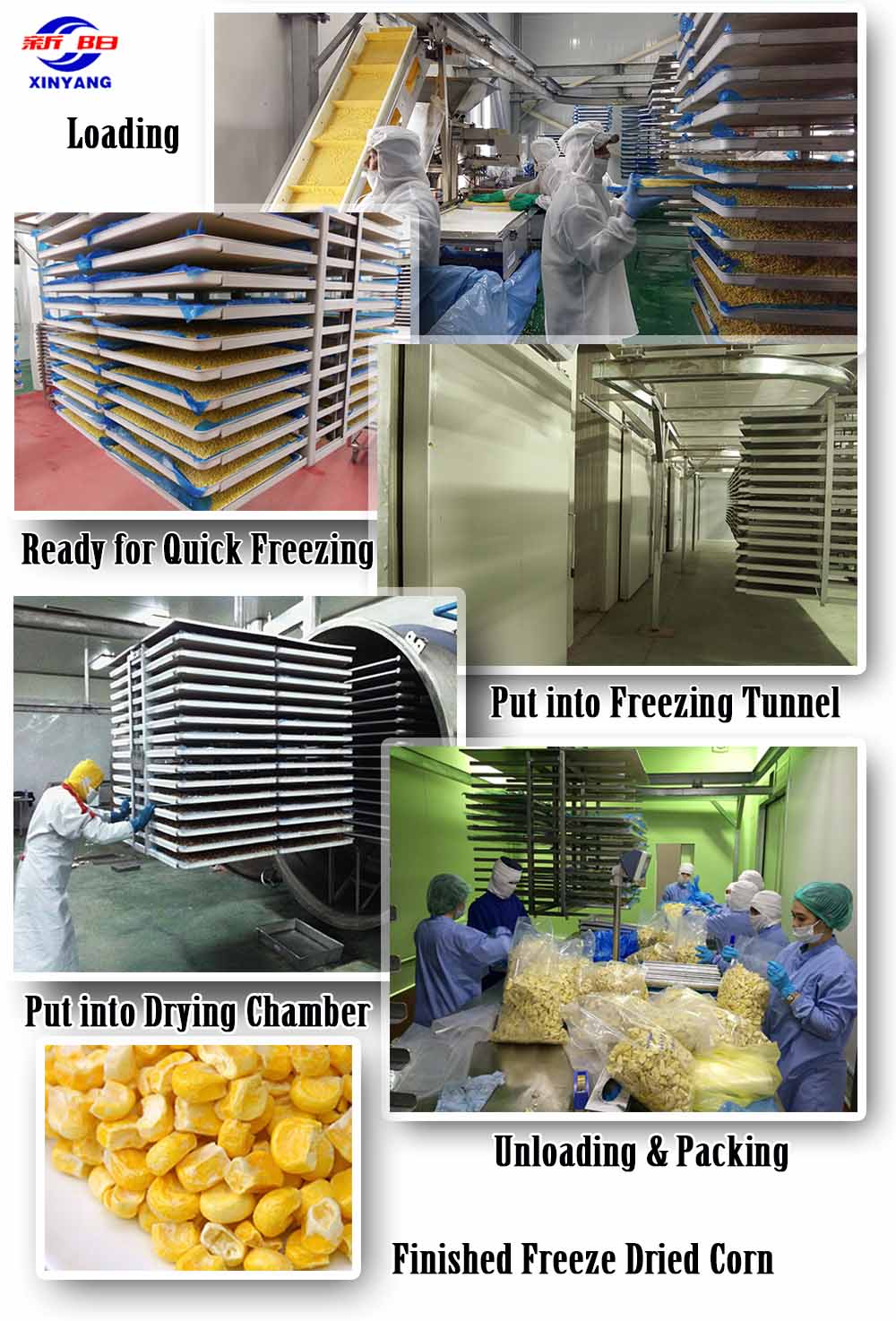 Detail Images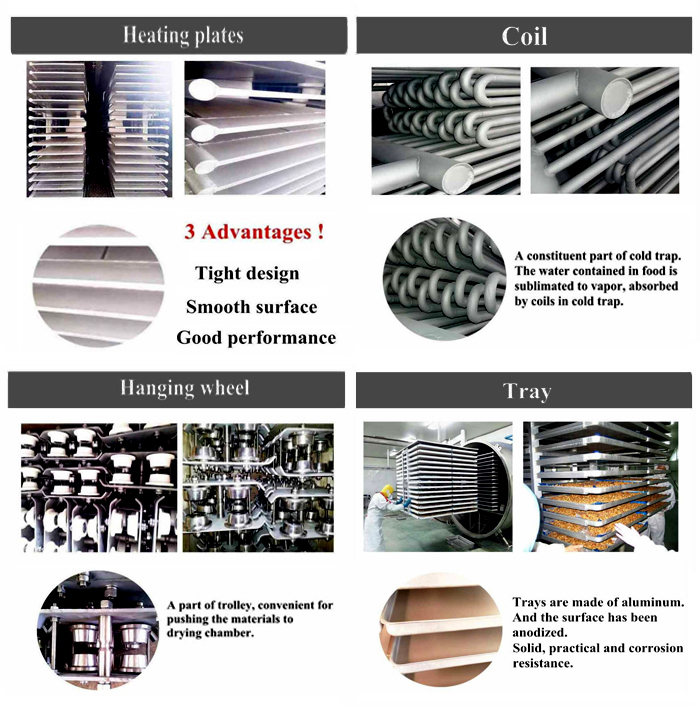 Accessory Equipment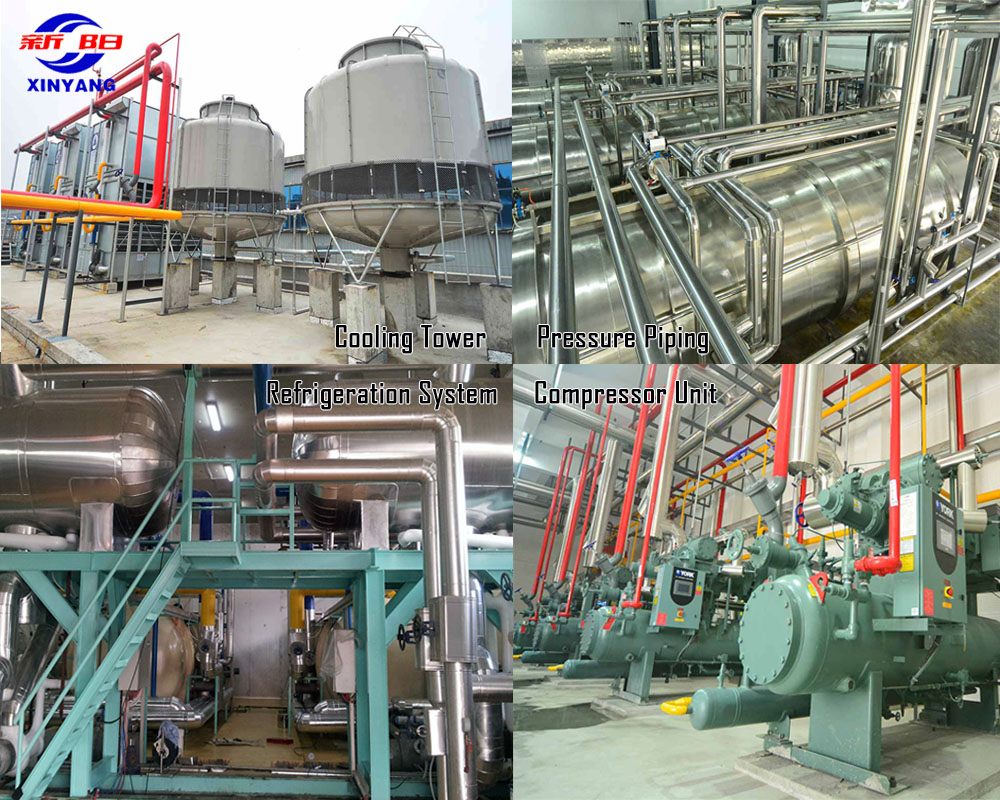 Packaging & Delivery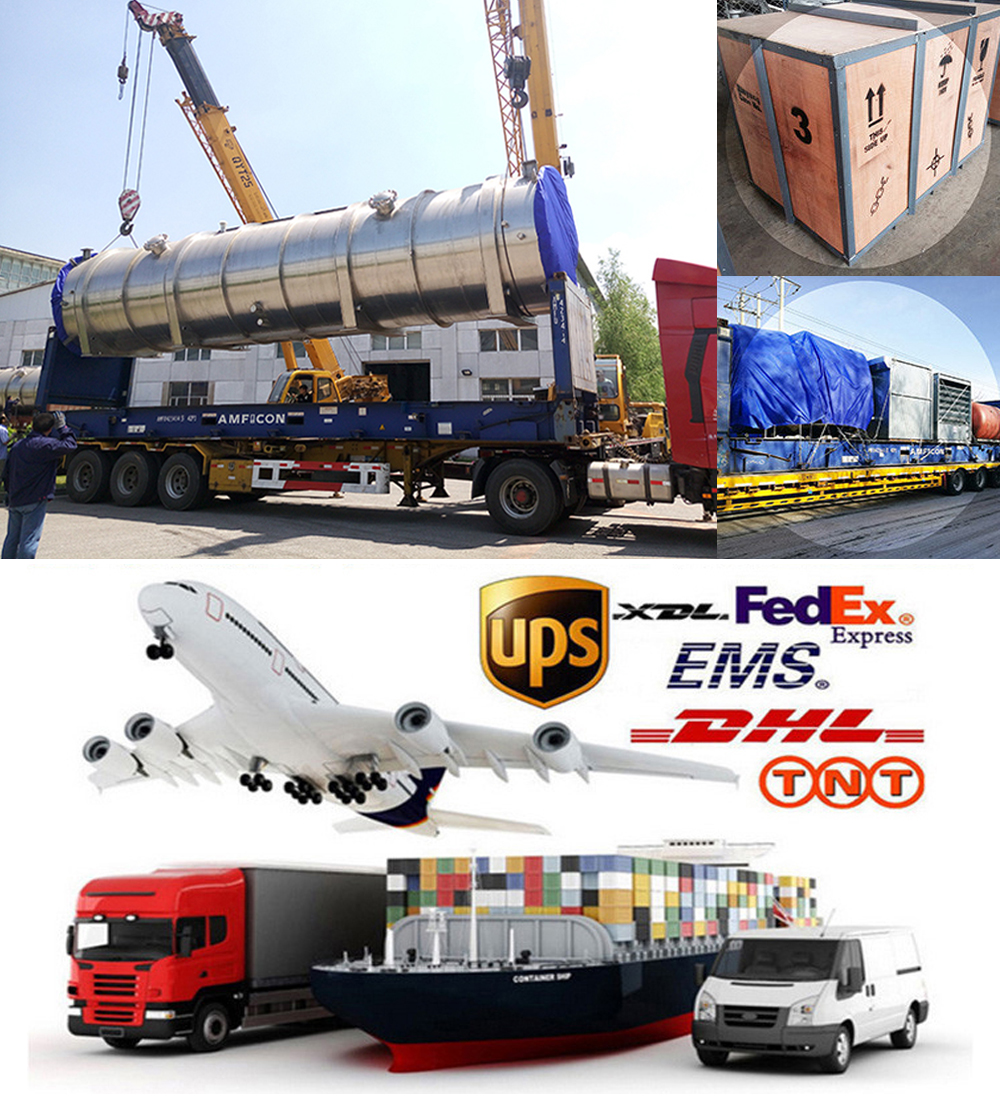 Company Profile

Shenyang Aerospace Xinyang Quick freezing Equip. Manuf. Co., Ltd. was founded in 1985, a leading enterprise incorporating the research, manufacturing, sales and services of food processing equipment and freezing technology. Freeze drying equipment and IQF freezing equipment are widely used around the world.
Our team have supported over 1,500 food engineering projects both domestically and abroad, our products have been exported to USA, Canada, Germany, Poland, Hungary, Czech Republic, Netherland, Singapore, Israel, Thailand, Malaysia, Indonesia, Korea, Myanmar, Chile, Nigeria etc.
Over 30 years' experience make us expertise in the food processing equipment manufacture, and we're confidence to provide you with high quality products and also good services.

1. Freeze-dried products retain their natural taste, aroma and colour without losing their nutritional value; 2. Freeze dried products do not contain any preservatives; 3. The elimination of water from the primary product significantly reduces the growth of microorganisms and bacteria; 4. Freeze-dried products are light, easy to transport and have a long shelf life.
...more
Get the latest price? We'll respond as soon as possible(within 12 hours)